移転のお知らせ Notice of Relocation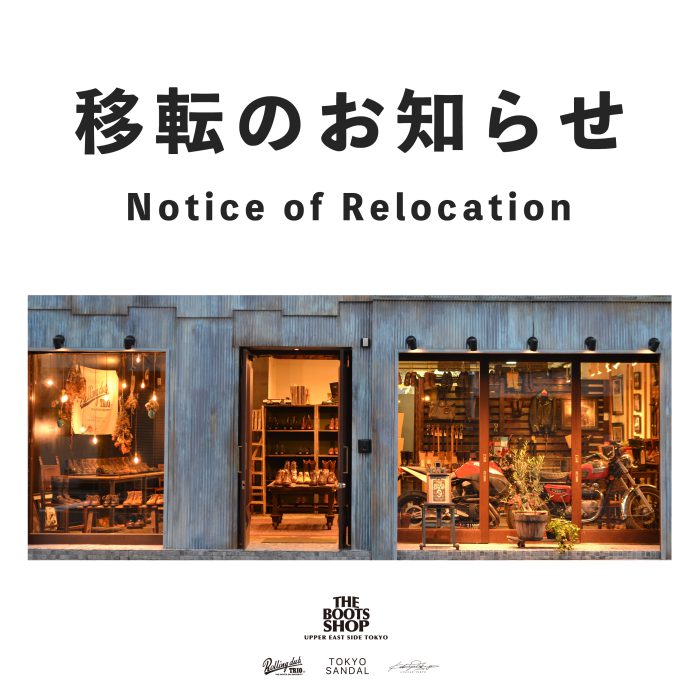 平素は格別のご高配を賜り厚くお礼申し上げます。
この度、弊社 ROLLING DUB TRIO、TOKYO SANDAL 並びに
Katsuya Tokunaga Atelier Tokyo の本店となる <THE BOOTS SHOP> を、
建物老朽化・建て替えのため新店舗へ移転する運びとなりました。
つきましては、現THE BOOTS SHOPでの営業を2022年7月4日 (月曜)までとし、
その後は約一ヶ月ほど休業とさせて頂きます。
新店舗は現THE BOOTS SHOPから徒歩3分ほどとなります。
[新店舗住所]
THE BOOTS SHOP
〒111-0033
東京都台東区花川戸 2-2-6 EBISUビル 1階
TEL : 03-6802-8083 (変更しておりません)
オープン日等の詳細は後日改めてご案内させていただきます。
今後とも変わらぬご愛顧を賜りますようお願い申し上げます。
Notice of Relocation.
We would like to take this opportunity to thank you for your continued support.
We are pleased to announce that <THE BOOTS SHOP>,
the main store of ROLLING DUB TRIO, TOKYO SANDAL and
Katsuya Tokunaga Atelier Tokyo, will be relocating to a new location due to the aging of the building and its rebuilding.
Therefore, we will be open at the current THE BOOTS SHOP until Monday, July 4, 2022,
and will be closed for about a month after that.
The new store will be within walking distance from the current THE BOOTS SHOP.
The address, opening date, and other details will be announced at a later date.
We look forward to your continued patronage.
CRAFT BANK Co.,Ltd